Globoid Gear. 3d Models for CNC machining. Globoid tooth surface generating software.
3d Globoid CAD models and software provided by: spiralbevel.com
We pioneered 3d CAD gear tooth modeling in design of Electric Power Steering for General Motors in 1998. The first two images are generated in 1998. The gear has metal hob with plastic over mold around it. Driving efficiency of Globoid design was 0.75 vs 0.68 for a traditional worm gear.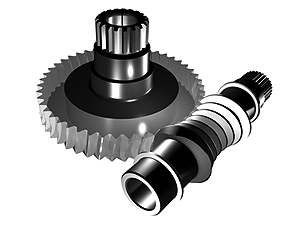 Globoid (or Double Enveloping Worm or Hour Glass) gear has advantage versus a traditional worm gear because of 6-10% higher driving efficiency and about 30% more torque capacity.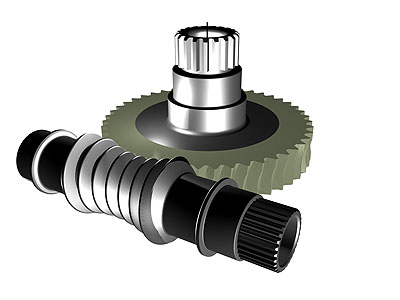 Globoid disadvantage is higher cost of enveloping pinion and strict requirements for accurate shaft positioning. The nature of Globoid tooth contact does not tolerate shaft misalignment. Exact center distance measurement is always required for correct 3d modeling of Globoid gear tooth.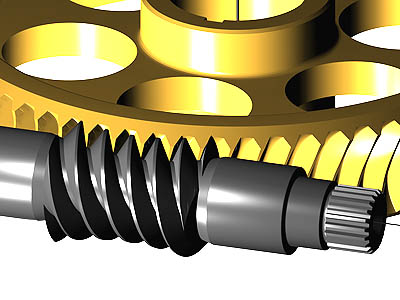 The most known US supplier of Globoid gears used to be Cone Drive located in Traverse City, MI. Today, Globoid gears and pinions are produced on demand around the world on 5-axis CNC machines from 3d CAD models. No special experience or equipment is need any more if good 3d models are used for CNC machining.
3-dimentional simulation and modeling of the Globoid and double enveloping tooth geometry is done on special software. The software generates gear and pinion flanks to allow accurate 3d modeling in CAD like SolidWorks or other.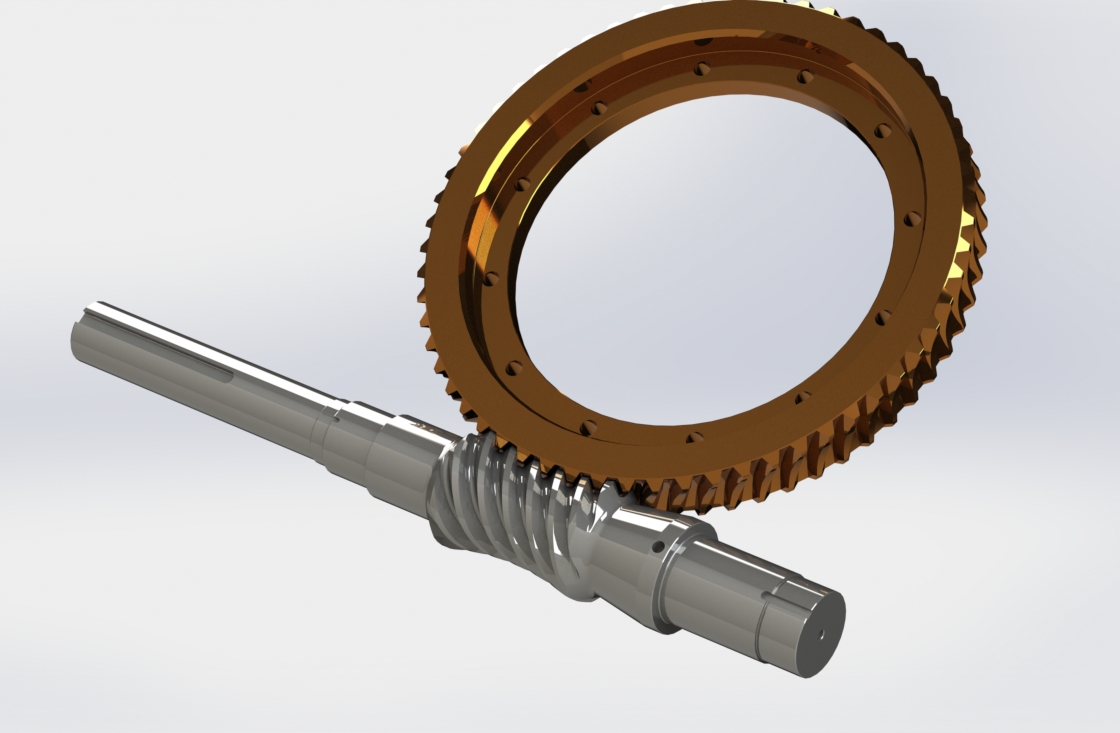 Globoid tooth has two contact patterns that move to each other during the action. One contact is on the middle of the gear flank remains, while the other is approaching from a side. It is important to remember that only a half of Globoid tooth is in contact on both: gear and pinion flanks.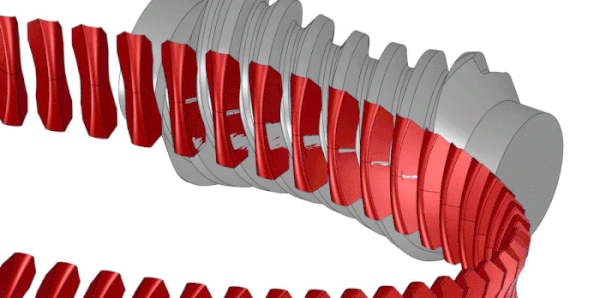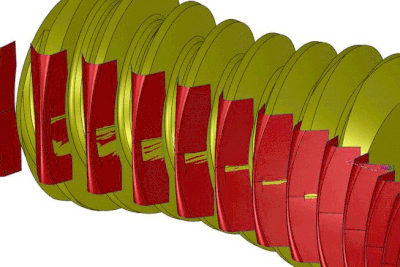 Animation of Globoid tooth contact in SolidWorks.
In 1999 ZAKGEAR introduced a skew axis Globoid gear as a high load capacity and increased driving efficiency alternative to the classic Globoid gear.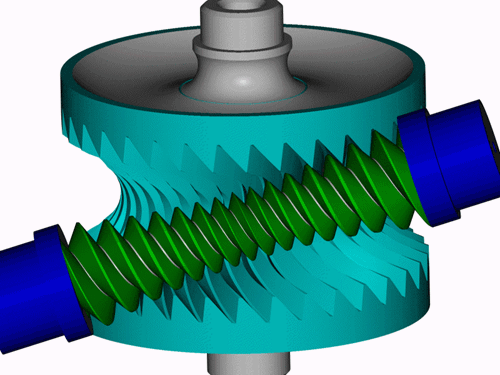 ZAKGEAR skew axis (wormoid) gear.
The accurate 3-d CAD of WORMOID gear has proved the capability of the concept such as conjugated transmission action and significant increase of number of teeth in the contact compare to the classic Globoid gear.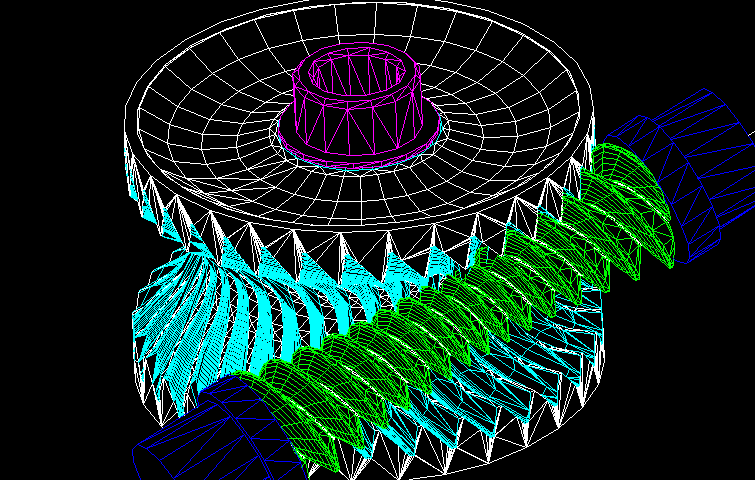 This is another example 3d mathematical gear model generated by our software .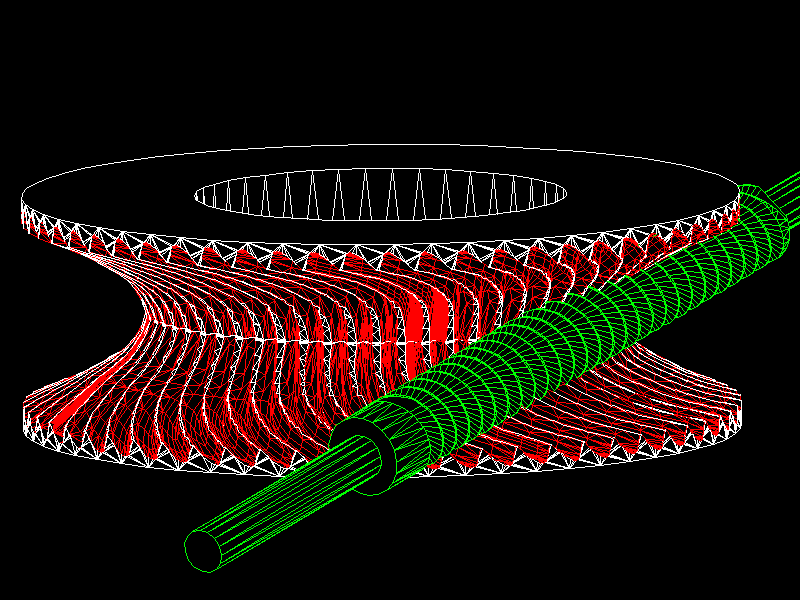 Skew axis enveloping gear set with cylindrical worm pinion. Generated on ZAKGEAR software
The other good example of the advantage to use ZAKGEAR methodology is Ultra Globoid Gear development which was conducted in 2001 under a contract with New Venture Gear. While the practical test results of the novel Ultra Globoid Gear design has not been disclosed, ZAKGEAR was the primary supplier of the design and analyses software, which made it possible production and validation of the gear.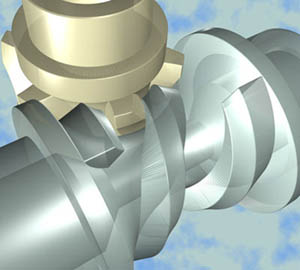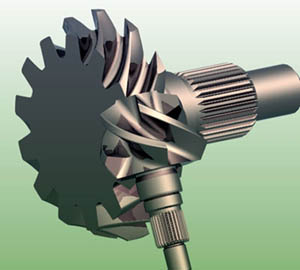 ZAKGEAR developed a complete software package for simulation of the 3-dimensional model and tooth contact of Ultra Globoid Gear
Globoid gear services:
3-d CAD models of Globoid gear and pinion for 5-axis CNC machining.
Tooth Contact Analyses (TCA). Stress analyses (FEA). Reverse engineering.
3-d CAD Globoid modeling software.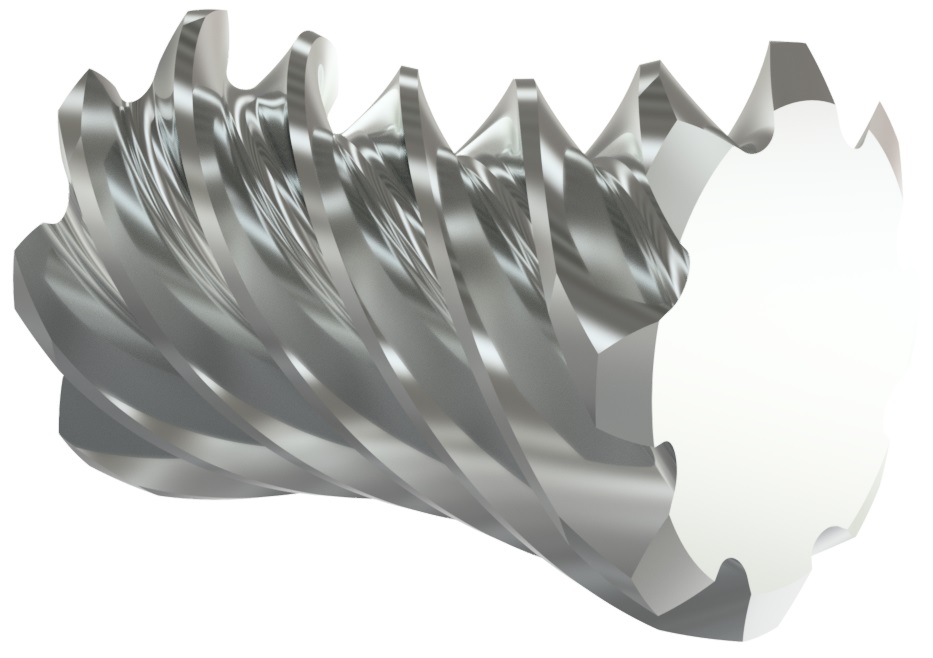 Inventor 2021 Globoid worm rendering generated by software from: spiralbevel.com
Home page: www.zakgear.com